The  Church of St Elizabeth's is located in Foleshill , Coventry. Established in 1912. The church has a thriving and vibrant communities of different nationalities. The parish priest, parish pastoral council, groups, and individual members of the parish organise various events throughout the year; including an Africa Day, retreats, and social occasions.
Our Parish Priest Father Moses is a member of the Religious Missionary Institute of the Apostles of Jesus (AJ, an order founded in Uganda and  committed to the service of spiritual, pastoral and social welfare of all people.
Newsletters link.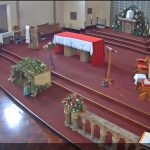 You can join us live over the Internet by clicking link
Parish History 1912-1987 – 75 years  link
Coming Up:
30th March and 18th May at 2:00pm: Meeting with the parents /guardians of the First Holy Communion children of St Elizabeth's school in the Parish Hall. Parish Membership's Registration Form: Forms are still available in church for you to take, fill and return to Fr Moses or to the Sisters.
Weekly and Sunday Rosary Prayers: Every Wednesday: from 7:00pm to 8:00pm in the Church. Every Sunday from 8:40am. All are welcome
This Parish is part of the Archdiocese of Birmingham: Registered Charity No: 234216