The  Church of St Elizabeth's is located in Foleshill , Coventry. Established in 1912. The church has a thriving and vibrant communities of different nationalities. The parish priest, parish pastoral council, groups, and individual members of the parish organise various events throughout the year; including an Africa Day, retreats, and social occasions.
Our Parish Priest Father Moses is a member of the Religious Missionary Institute of the Apostles of Jesus (AJ, an order founded in Uganda and  committed to the service of spiritual, pastoral and social welfare of all people.
Newsletters link.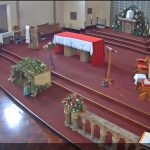 You can join us live over the Internet by clicking link
Parish History 1912-1987 – 75 years  link
Coming Up:
Sunday 23rd June at 11:15am: First Holy Communion Mass for children from Good Shepherd RC primary school. Please remember them in your prayers Saturday July 13th "Altar servers' Sponsor walk" Money raised at this event will be used to purchase their vestments and other activities. Please see Sr. Joan for registration to participate in the walk.
Sunday 7th July and 14th July Thanksgiving Mass: Our two parish schools will be coming together for a Mass of thanksgiving to God for the success of this academic year. For all the hard work everyone had put in – staff, governors, pupils and parents.
Sunday 7th July Bric a Brac & Nearly New Clothes Sale: This is going to take place on Sunday 7th July after the 9 and 11.15 masses. There will be plenty of bargains for all and all monies will go to the New Parish Hall fund. Come and join us and bring some money to spend'.
Sunday 11th August 2019 at 3pm: Multicultural of the African Day Mass – to be presided over and preached by Fr A Sammy. All are welcome.
Saturday 14th September Pilgrimage to Knock Shrine, Ireland, £599 sharing. Price includes flight & hotel with10kg hand luggage, from Manchester or Liverpool & 4 nights' in Knock hotel full board. Details on notice board.
Thursday 5th December at 7:00pm: Confirmation Mass with Bishop William for (now) year 5 Pupils of our parish Schools and parish RCIA candidates.
This Parish is part of the Archdiocese of Birmingham: Registered Charity No: 234216